Marriage & Relationship Counselling
Relationships increase in love and support, but that doesn't mean they're free of conflict. In fact, every relationship encounters challenges, from trust issues to poor communication to disagreements in parenting. Whatever the issue, sometimes couples are able to work through it successfully—but in other cases, the path forward isn't clear and a relationship professional's guidance could prove beneficial.
Family Life Psychology & Wellness' premier couples counselling service is here to provide that expert relationship help and support. Led by skilled, caring mental health professionals, Family Life Psychology & Wellness helps couples manage their unique challenges, working to improve their overall relationship.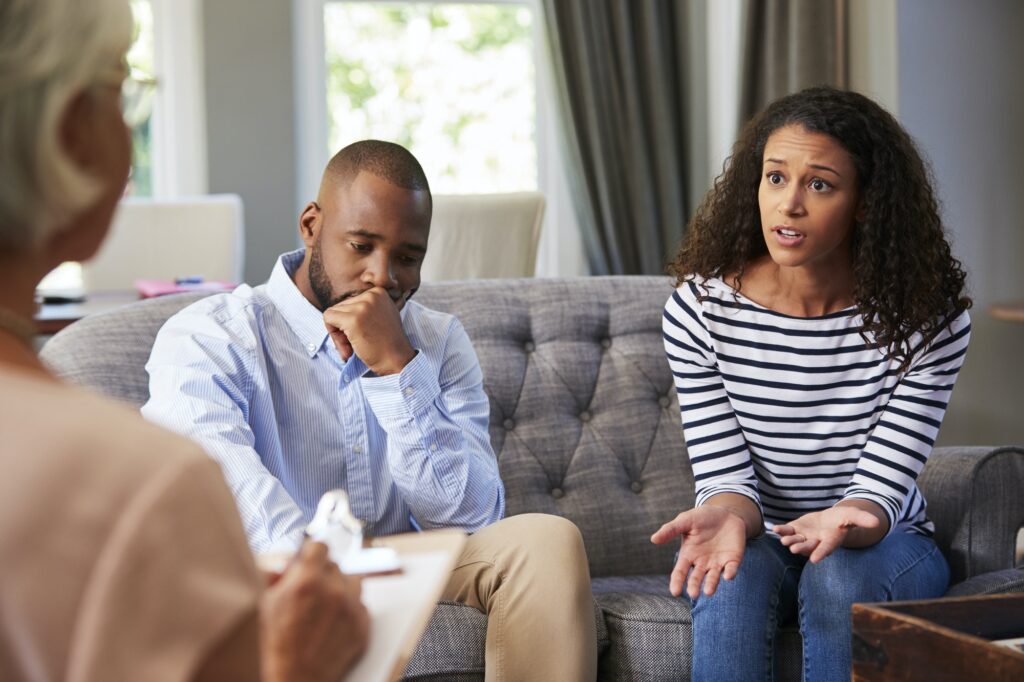 What Exactly Is Couples Therapy?
As we touched on above, couples counselling, also known as relationship therapy, is designed to help couples improve or strengthen their relationship, whether they be married, engaged, or dating. When the couple is married, couples therapy might also be referred to as marriage counselling.
Couples therapists can help couples who have more serious issues as well as those who would simply like to strengthen weaker areas of their relationship. This journey can involve tough, yet productive, conversations about your relationship, which requires you to talk to your partner in a respectful, patient manner.
At Family Life Psychology & Wellness, your couples therapist will be by your side to guide and support you through these conversations. They'll partner with you to understand what has brought you into therapy and how they can best help you and your partner in your sessions.
How Does Couples Counseling Work? What Does It Look Like?
Counseling for relationships is growing increasingly popular. Every year, thousands of couples begin relationship counseling with hopes that therapy will help them work through their day-to-day problems as well as their larger conflicts.
While a couples counselor's approach to therapy may vary, couples therapy sessions typically revolve around the following three elements:
Your counsellor might ask that you and your partner attend a couple of individual therapy sessions too. This will enable them to get to know you both on an individual level and assess each of your personal needs. Then, they can develop the best plan for moving forward.
The couples therapists at Family Life Psychology & Wellness pull from different approaches to therapy, including emotionally focused therapy and the Gottman Method (as developed by John Gottman). These decisions are based on the couples' specific needs, an essential component here at Family Life Psychology & Wellness, that leads to successful outcomes.
Who Should Consider Talking to a Couples Counselor?
Couples counsellors work to ensure that a couple's time in counselling will yield a happier, stronger relationship. In order to accomplish this, your Family Life Psychology & Wellness counsellor will tailor your sessions to fit your needs and goals. If you and your partner think you could benefit from working with a professional, partnering with one of our professionals can prove valuable.
For example, couples counselling can help you address and/or move forward from issues like:
All of these issues rightfully warrant couples counselling. Remember that there are many other instances when seeking professional help in your relationship is necessary and beneficial too.
Even if you don't think it is a serious issue, a couples counsellor can help you to put the issue to bed and improve the quality of your relationship.
5 Ways to Encourage Your Partner to Attend Counseling
Yes, counselling for relationships is helpful and beneficial. However, there is no "trick" for getting your partner to join you in couples counselling or marriage therapy. While the following tips may help you to encourage your partner, they are not forms of manipulation.
If your partner feels hesitant about seeking couples counselling, here are a few guidelines to follow in encouraging your spouse:
Show signs of change yourself.

Oftentimes, when someone avoids couples counselling, it's because they don't think it will be effective in facilitating real change in their partner or relationship. Counter this worry by helping your partner to see that you're not only willing to change, but also that you have already begun improving yourself. Going to counselling on your own is a good way to show that you are serious about committing to a self-improvement process.

Stress that you and your partner are in this together.

Remind your partner that, while your relationship has difficulties, you want to work with him or her to improve the relationship together. Show solidarity and an openness to doing whatever is necessary for a healthy, happy partnership.

Explain to your partner that the counsellor is a neutral party.

If you have spoken with a couples counsellor by telephone or perhaps even met with a counsellor in-person, make sure that you stress their neutrality to your partner—explain that the counsellor is by no means "on your side," but will work with both of you impartially. Alternatively, offer to see a new couples counsellor that neither of you has had contact with.

Prompt them to consider the rewards of couples counselling.

If you suggest couples counselling, your partner may have some resistance because it was "your idea." Help to make couples counselling a shared idea by asking your partner, "Hypothetically, if we were to go to couples counselling, what would you most want to get out of our sessions?" This question may also help your partner to begin thinking about his or her potential gains from couples counselling.

Talk about "even if."

Your partner may say that he or she doesn't want to go to counselling because there is no hope for the relationship. You can respond to this argument by using "even if." The idea here is that "even if" the relationship has "no hope," counselling can still help the two of you to part on good terms and may help each of you to learn from the experience so that you don't make similar mistakes in future relationships.